For our final blog post of 2021 and continuing our tradition, we'd like to reflect on all the CFEngine accomplishments throughout the year and provide a sneak peak of what to expect in 2022.
Modernized Mission Portal UI
In CFEngine Enterprise 3.18.0 LTS, released in June, we overhauled the web user interface. You can read about the changes in our blog post on the subject. We will continue to make meaningful design changes within Mission Portal next year with the goal of making it more intuitive and user friendly.
Host specific data (CMDB)
We also added host specific data to Mission Portal. You can now assign variables and classes to individual hosts. This is great for setting the owner of a machine, assigning it a role, or controlling what its policy is doing. As an example, you can have policy to automatically update all packages on a machine. You might not want this enabled at all times, but temporarily enabling it for specific hosts is very useful.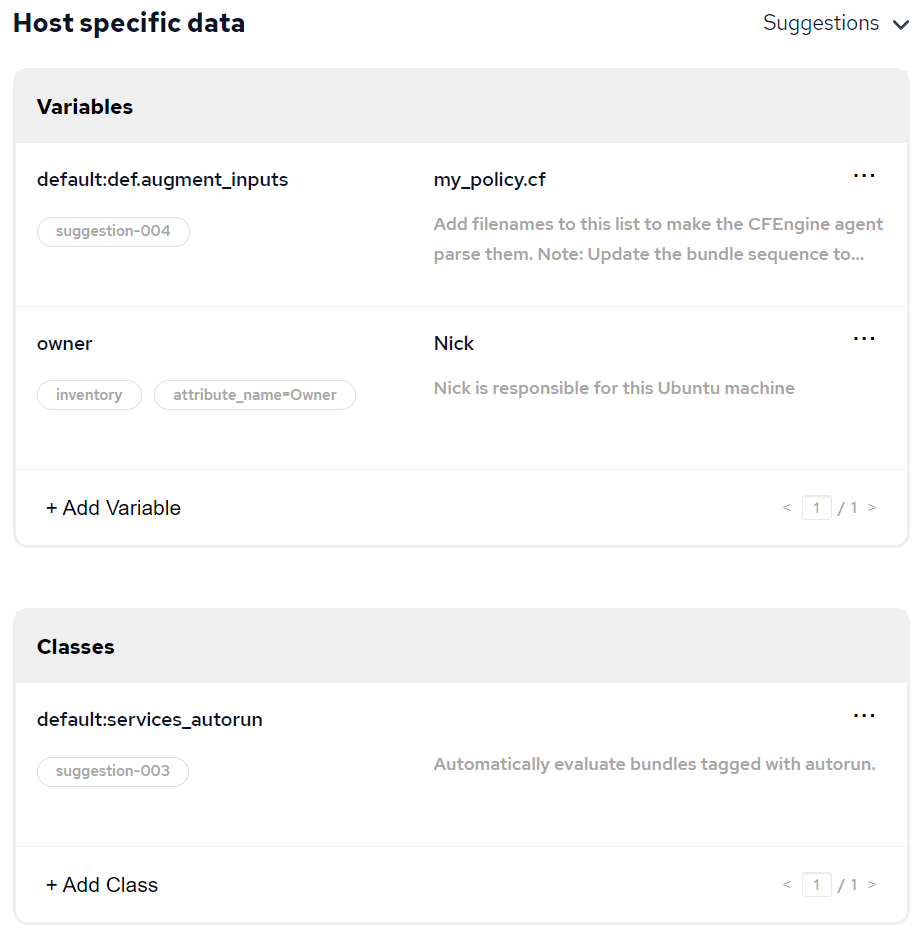 Trigger agent runs and report collection
In addition to assigning data from the host info page, there are new buttons to perform useful actions, triggering agent runs and report collection. This developer demo video shows the new agent run and report collection buttons in action:
New website
Earlier this year we revealed our new CFEngine website. One main goal was to better highlight CFEngine's capabilities for potential new users, however we also wanted to improve navigation for existing users, making it easier to find exactly what you're looking for as quickly as possible. One way we achieved this is by creating a CFEngine developer section that is specifically meant for existing users who are more likely looking for customer support, documentation, and other technical resources.
We've also created a whole new Resources section where you can find all of our marketing focused content including recorded webinars,videos, white papers, case studies and more.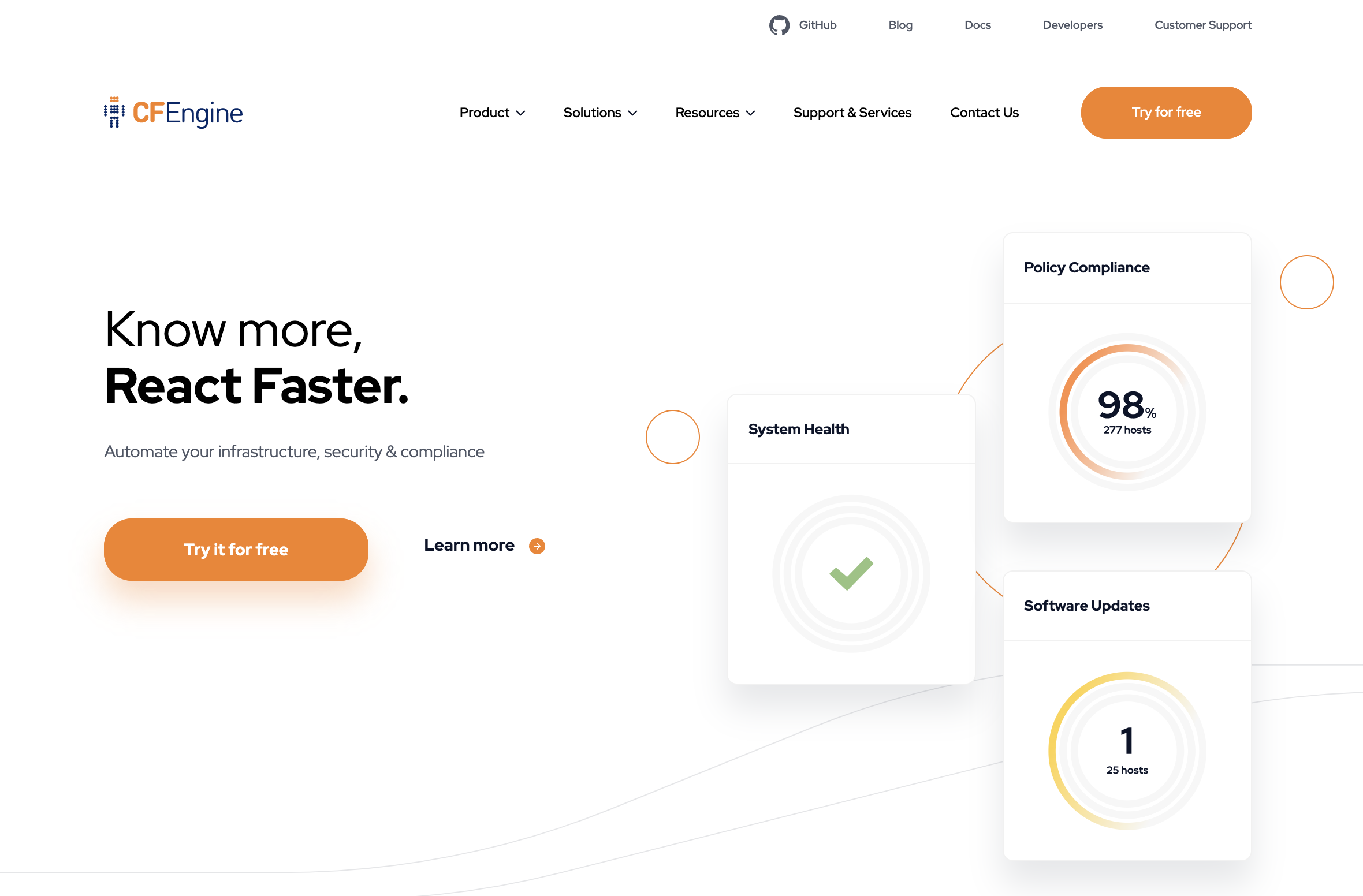 "The Agent Is In" webinar series
Due to COVID travel restrictions and being unable to attend conferences, the CFEngine team wanted to find ways to continue engaging the community. As a result, we launched our monthly webinar series titled "The Agent Is In". We've used this webinar series as a way to highlight new features like CFEngine Build, new use cases for IoT, and even learn new tricks from other community members. All of the webinars are available to stream on our website.
Because of its success, we will continue this webinar series into 2022 and look to show off more creativity from the community and the CFEngine team.
GitHub Discussions
There are already several ways to interact with the CFEngine team and other community members, including the Mailing List, IRC and newsletter, however as the user base grows and GitHub becomes more prominent, we felt that using their new Discussions feature would better allow users to engage in a way that they're most comfortable.
If forum style communication is your preferred method, then come introduce yourself and tell us your CFEngine story. As a thank you we will send you some cool CFEngine SWAG.
CFEngine Build
Collaboration was an area that we wanted to specifically focus on in 2021. While there's a learning curve with every new piece of software, we wanted to provide a way for new CFEngine users to get instant value out-of-the-box, but also provide existing users a way to easily optimize their implementation without always having to create policy. This was an ambitious goal, but led to the creation of CFEngine Build. On this new website, users can easily implement and share custom policy & modules with one another.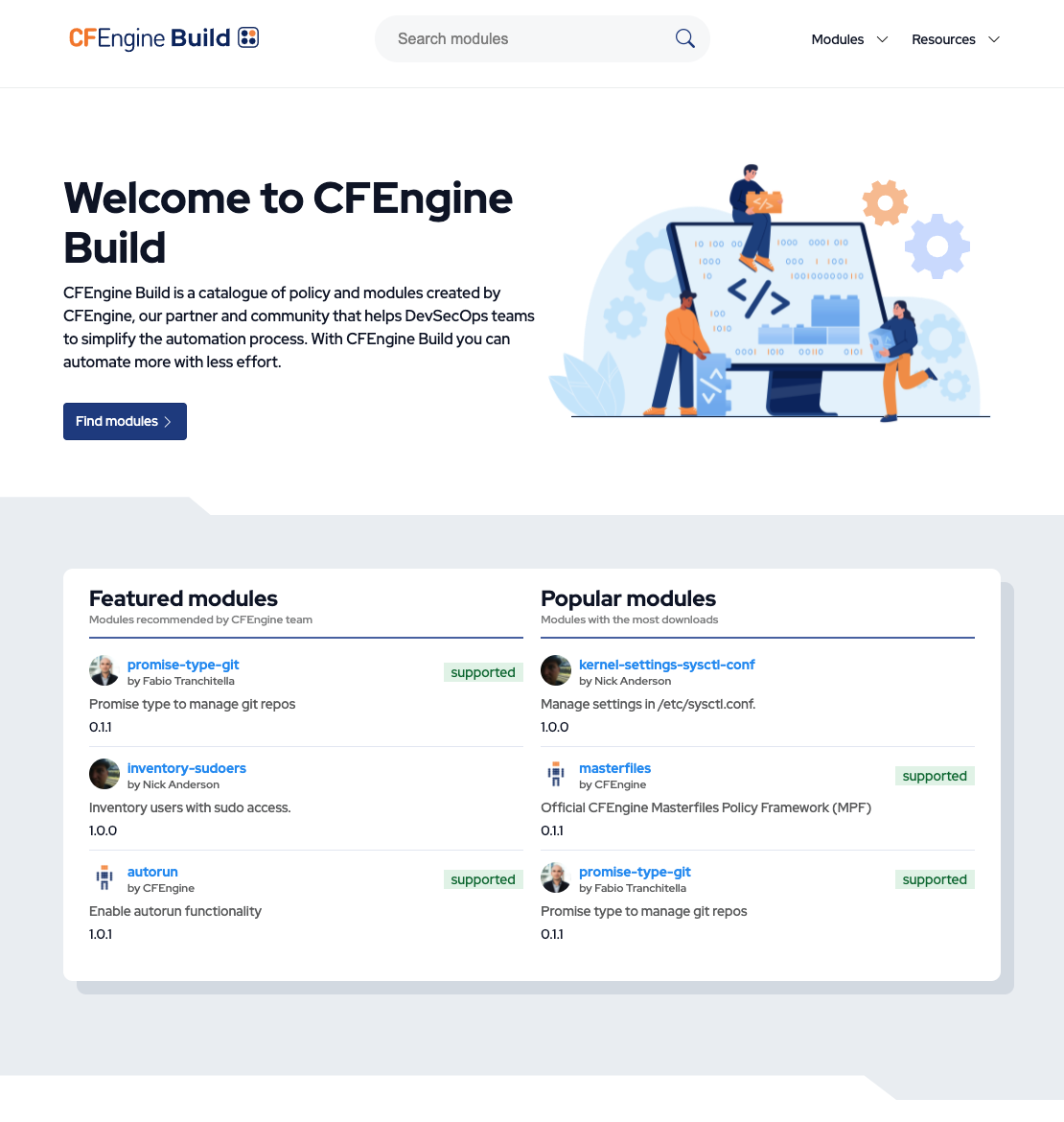 Security hardening holiday calendar
To illustrate the power of CFEngine Build, we created our Security Hardening Holiday Calendar where we released a new security-focused module every day until Christmas that will help you improve your organization's security posture and win you some brownie points with your boss. Christmas may be over, but it's not too late to read our recap and implement them in your own environment: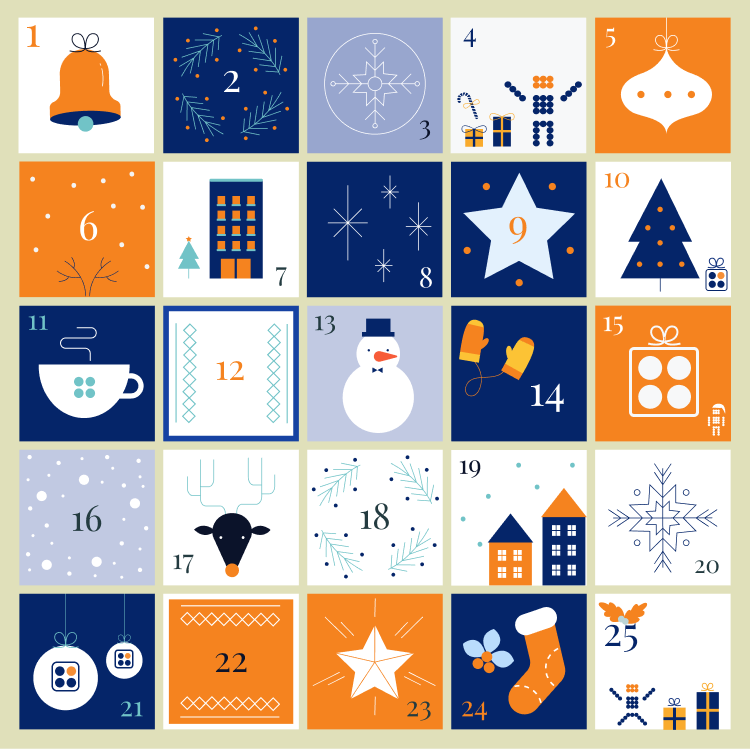 Releases
In total, we released 6 new versions of CFEngine, read about them in their respective blog posts:
Next year
2021 will be hard to top, but we're excited for what's in store for 2022. Collaboration, ease of use and community engagement were big focuses this year and we will continue to double down in these areas next year. You will see future improvements in our documentation, making it easier than ever to optimize your CFEngine implementation. We will also be introducing new features that aim to make Mission Portal more actionable, reducing the need to create policy for basic functions.
Finally, we'd also like to thank the CFEngine community for all their dedication and continued support. Your feedback and ideas are critical to the success of CFEngine and help us develop meaningful improvements. We wish you and your family good health, a Happy Holiday season, and look forward to working together in 2022.