It's that time of year again where we reflect & recap all things new with CFEngine from this year. You may recall from the 2021 retrospective that our focus for 2022 would be on collaboration, ease of use, and community engagement. I'm proud to summarize our progress below in these key areas for 2022's Retrospective and give you a sneak peek at what's to come in 2023.
Revamped documentation
CFEngine is a powerful, flexible, and complex piece of software, but we are committed to make it as easy to use as possible, and are looking at all ways we can improve the new user experience. The documentation is an important tool for both new and experienced users to find the information they need. We identified multiple areas for improvement in terms of structure, navigation, search, and content, we decided to completely overhaul it in 2022. The new documentation was launched this fall, and includes several new improvements:
New look - A modernized design that eliminates clutter and enables you to more quickly find information.
Updated navigation - Everything is organized into one hierarchy, which can always be found on the left side.
Improved search - The new search bar is much better at finding what you're looking for.
Responsive design - Our documentation now looks great no matter the device, screen size, or window size.
For more details and screenshots of the redesign, see our blog post from June.
Getting started guide and videos
Along with the new documentation site, we've also started improving a lot of the content. One core part of this is the new getting started guide. These tutorials take you through testing CFEngine for the first time, including installing, using the Web UI, modules, reports, etc. There are also video versions available:
All of the videos are available in a playlist on YouTube.
CFEngine Build in Mission Portal
One of the most significant additions last year was the introduction of CFEngine Build, which enables users to more quickly and easily automate infrastructure. This year, we made using CFEngine Build even easier by integrating the tooling directly into Mission Portal. In the latest release, we added several powerful features, including:
Module input - allowing end users to configure what a module should do, without writing code.
Multiple projects - to manage multiple policy sets, either for different hubs / environments, or for testing out new changes.
Local deploy - to allow easily testing modules and CFEngine Build functionality without setting up a remote git repo.
Reports UI
The Reports UI in Mission Portal has also been redesigned allowing you to quickly access your most relevant reports: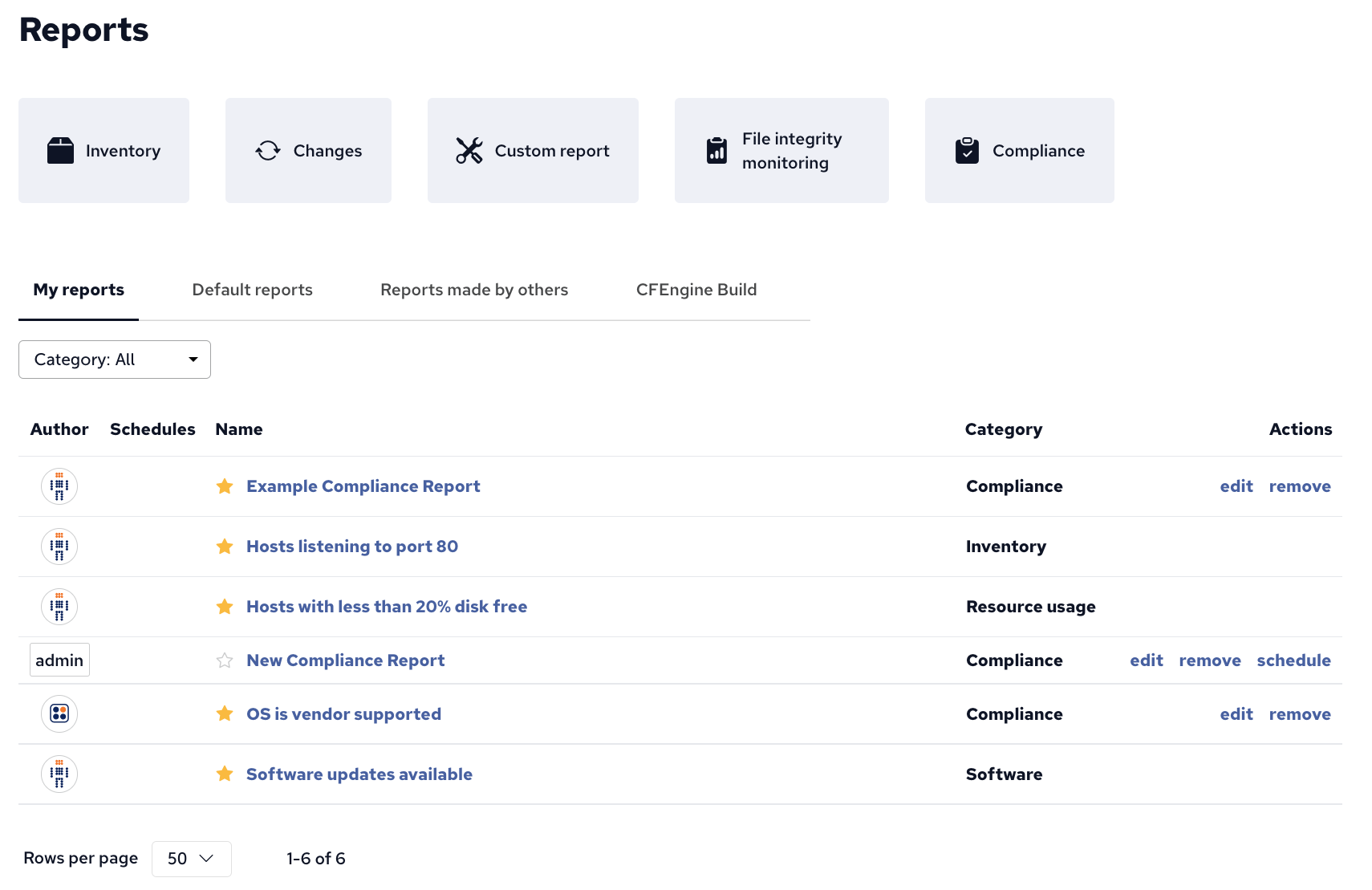 There are now multiple tabs for My reports, CFEngine Build, Default reports, and Reports made by others, which makes finding individual reports easier and eliminates the need to sift through all reports in one view. You can read more about the CFEngine Build in MP and the new reports UI in the latest 3.21 LTS release blog post.
Compliance reports
Compliance reports were introduced in 2021, and give you high level overviews of your infrastructure's compliance with various security checks, as well the ability to drill down and see why individual checks are failing on individual hosts. This year, we improved the report design, especially for the PDFs, to make them more organized and easy to read: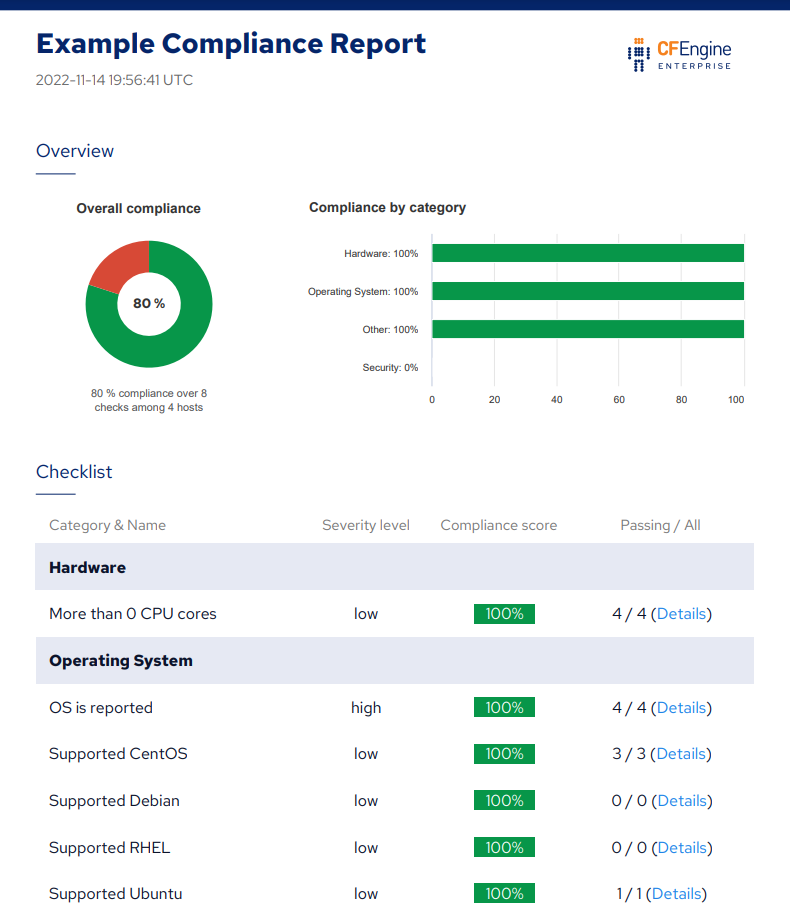 Releases
We released 6 new versions of CFEngine this year:
To test the new features mentioned above, get one of the newest releases today, from our download page.
Additionally, we released 28 new versions of the CFEngine Build command line tool, cfbs. The most important changes are summarized in these 2 blog posts:
Install or upgrade cfbs via the Python Package Index: pip3 install --upgrade cfbs.
Holiday security calendar
Due to popular demand, the CFEngine team brought back the Holiday security calendar that provided daily security recommendations and best practices that can be easily implemented into your CFEngine deployment. You can catch up on these daily tips here.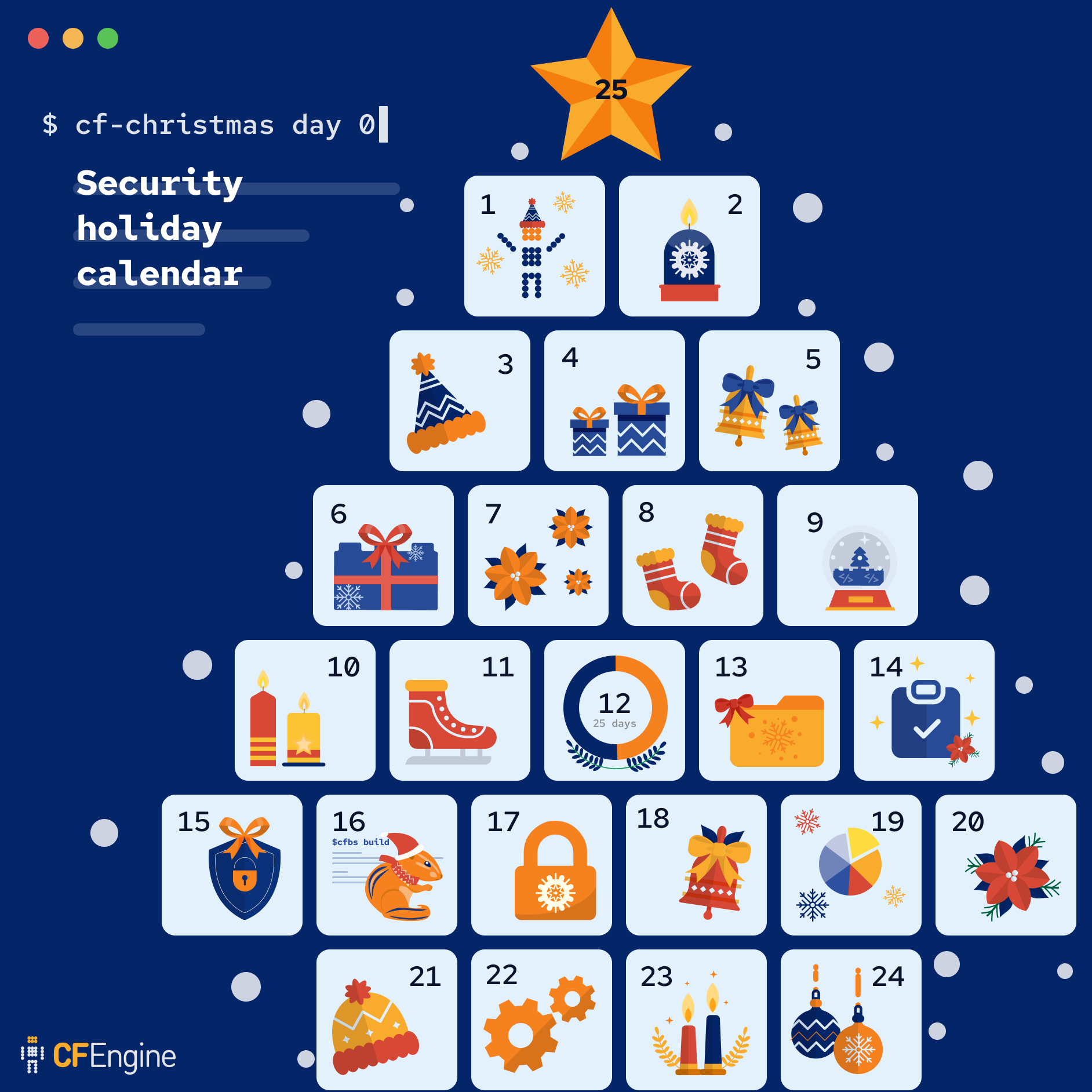 Trends
Most of the content we publish (blog posts, webinars, videos, white papers), focuses on the CFEngine product, new functionality and the design and engineering behind it. Over the past few years, we've been picking up development pace, adding big improvements and new features. An indicator of this, is the number of blog posts per year, and we're happy to share this nice graph/trivia - The number of blog posts on cfengine.com has been increasing every year, for the past 6 years: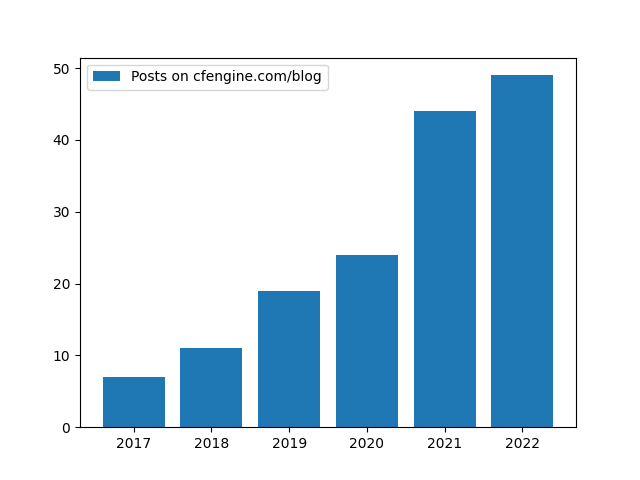 Holiday giveaway
As a thank you to our loyal users, we'd like to send you some CFEngine SWAG. Fill out the "Contact us" form on our website, include your mailing address in the 'How can we help?' section, and our team will hook you up with the latest CFEngine gear.
Next year
For next year we will continue a lot of the great things we did this year, including:
Improving the documentation content with more easy tutorials and examples.
Focusing on ease of use in every area (MP, Docs, websites, policy language, etc.).
Adding more modules to help you with compliance and security hardening, especially in more modern contexts such as IoT, hybrid cloud, Kubernetes clusters, etc.
Finally, I'd like to leave you with one little teaser of the next big feature coming to CFEngine: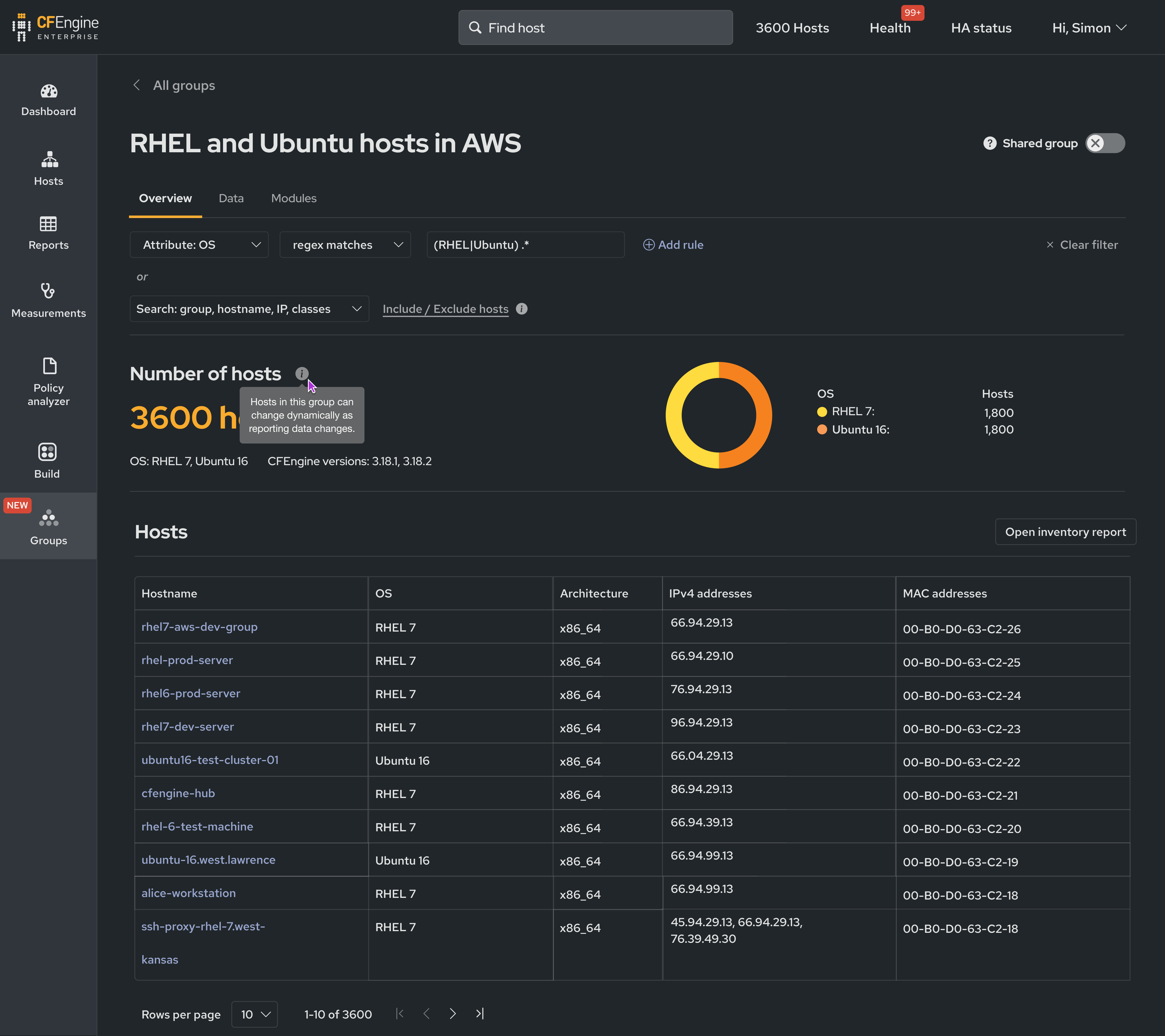 As always, we wouldn't have had the success we did this year without our Enterprise customers and Community users. Thank you for your continued contributions, feedback, and support. We look forward to working together in 2023.